As Bollywood music flooded the walls of Mount Carmel Auditorium, students entering this year's Bollywood Fest were greeted by the smell of the Indian party being held in the room and a miniature cardboard cutout of Bollywood actor Shah Rukh Khan.
The South Asian Society at Quinnipiac University held its annual Bollywood Fest on March 4 at CCE 101.
Bollywood is the largest film industry in India, releasing over 2,000 films across all genres every year, making it challenging to watch binge movies from the industry. The festival aimed to bring a crucial part of Indian culture to Quinnipiac for students from all walks of life to bond and celebrate through traditional food, dance and music.
"(Bollywood Fest) is important because it just celebrates our culture," said SAS Chairman Kripa Patel. "I know we have a South Asian presence here on campus. So I think with all the events organized by the South Asian Society, our main goal is to have a way for our members to celebrate their culture as well as to invite other people to our events and then celebrate our culture with us.
The evening began with everyone's favorite childhood pastime, arts and crafts. After the students rushed to the faux red carpet that decorated the stairs, they were greeted with a wonderfully decorated table filled with art supplies.
The table contained various materials, ranging from acrylic paint, wooden tags, gemstone stickers, glitter, coloring pages and markers. Among the supplies were stickers of iconic Bollywood characters to take home as souvenirs. Students were encouraged to do whatever they wanted using the materials provided.
As part of Quinnipiac mask mandate decisionwhich limits mandatory mask-wearing to classrooms and health service areas, this year's Bollywood Fest marked one of the first events on campus where guests could attend without a mask.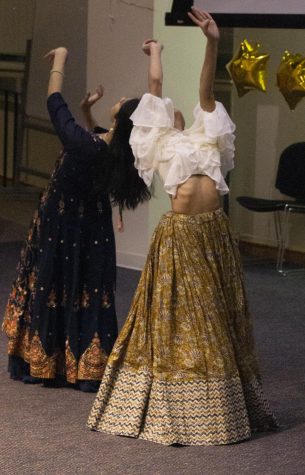 SAS was unable to hold its annual Bollywood Fest in Spring 2020 due to students being sent home for the remainder of the semester due to the COVID-19 pandemic. Last year marked the first in-person Bollywood Fest since the start of the pandemic, when masks were still compulsory.
"I think an event like Bollywood Fest is crucial to have in person…I think being together and experiencing the event all together is necessary to create a meaningful experience," said Corey Windham, Senior Graphics Specialist and interactive design.
The brilliant array of traditional Indian dishes, served buffet style, was a major draw for the event. The first dish in the lineup was paneer makhani, a staple in many Indian restaurants. It consists of doughy paneer cubes cooked in a spicy mughlai sauce of milk, cream, butter, tomato and cashews. Gobi – which translates to cauliflower in Hindi – Manchuria was next in line. As the name suggests, the dish features cauliflower florets tossed in a Manchurian sauce.
Boneless chicken pieces dipped in a spicy curry sauce, better known as chicken tikka masala, was another option included in the roundup of savory dishes. Many diners then finished their plates with a pile of white basmati rice and naan bread.
The creamy and sweet mango lassi drink was a refreshing choice made available to accompany the Indian style dinner. For dessert, beautifully decorated cupcakes from Sugar Bakery and an array of cookies from Insomnia cookies were another sweet addition to the savory feast.
"I may be biased, but my favorite part of Bollywood Fest was the food," Windham said. "I strongly believe that food is an expression of cultural identity; what better way to express your culture than by sharing a meal and talking? »
When all the guests were seated with their big plates of food, the evening ended with four Bollywood-style dances choreographed and performed by members of SAS. The members prepared two weeks before the event. Patel described it as "another way for our members to get involved".
Each member danced effortlessly the night away to a traditional Bollywood soundtrack handpicked by SAS members while sporting lehenga cholis, sarees and sherwanis commonly seen in Bollywood cinema. The performance part ended with a great group number.
"Bollywood is definitely a huge source of entertainment and music," Patel said. "I know a lot of us grew up watching Bollywood movies and listening to Bollywood music, so we all really have a connection with that. And even if you don't have a connection, you know that Bollywood is very popular in (Indian) culture. So we're definitely trying to use that in our event.
Before the departure of the guests, the participants in the raffle received a ticket with a number on it. The lucky runner-up winner, second-year applied business student Julianna Allen, won the miniature cardboard cutout of star actor Khan. Sophomore health science student Ibaleze Garcia won the top prize, winning a life-size cardboard cutout of the Bollywood actor.
"I always like to say this, don't be afraid to come to our events," Patel said. "We would love to have you. I know every multicultural cultural organization gets excited when we have a big turnout…We are a loving community in Quinnipiac.